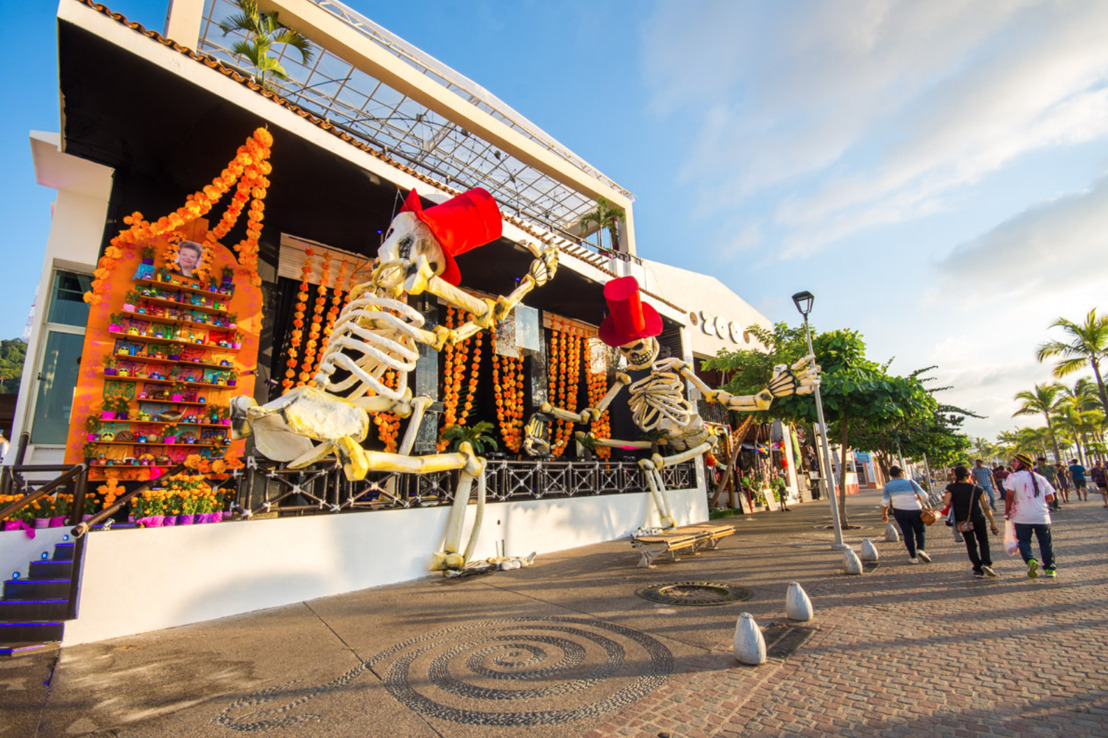 Don't Miss This Colourful Week of Celebrations, Art and Culture on Mexico's Pacific Coast
Sunday, October 13, 2019 —

Día de Muertos, translating to Day of the Dead, is one of the largest and most beautiful holidays in Mexico. The colourful festival has been celebrated in Mexico since the 1500s, but its roots began with the Aztecs roughly 3,000 years ago.

The celebrations in the face of death start on or around 23rd October but the actual holiday is on 1st and 2nd November. Locals and tourists come together to enjoy a series of activities in different venues from 23rd October until 4th November.

From 31st October to 2nd November, it's believed that spirits return from the afterlife to reconvene with their loved ones. 1st November honours the souls of children who have passed away, while 2nd November culminates celebrating the souls of adults and the La Caravana de la Muerte parade.

Beautiful altars, honouring family members, are tirelessly worked on for a whole month beforehand. Street parties bring everyone together to enjoy an important part of the Mexican culture and Mexican Folk Artists create the most amazing altars. It's an incomparable and vibrant festival to see what Mexican heritage is about!

Celebrations in Puerto Vallarta

In the lead-up, from the 28th October, you'll find charming dance shows and costume and makeup contests of the Catrinas, the female skull with an elaborate hat, the most famous symbol.

Art, music, dance and mariachi street parties and celebrations fill the Romantic Zone, City Hall Main Square and the Malecón until the Grand Opening of the Main Altar on the 1st November, which transform the whole of Puerto Vallarta into a kaleidoscope of colours, smells and sounds!

From 31st October to 3rd November an explosion of festivities and vibrant performances take over the town. Don't miss the main traditional procession full of amazing costumes and artwork as well as musical shows and 'skeleton' ballet performances.

You'll find 60 palm trees dressed in catrinas, community Altars exhibition, a traditional parade from the cemetery to Parque Lázaro Cárdenas where Mariachi and ballet folklórico await, guided tours to visit the cemetery, day of the dead bread tasting and more!

Festivities in Riviera Nayarit

The quaint seaside town of Sayulita redecorates its streets in honour of fishermen and surfers dead at sea. A grand cultural program and traditional night walk with mariachis from the central plaza to the cemetery are a bucket list experience.

Visitors travel from far and wide to see the Day of the Dead altar contest and cultural and musical pop-ups. The festival begins on 31 October and ends on the night of 2 November.

Another beautiful seaside town to visit in Riviera Nayarit for great Day of the Dead celebrations is Bucerías. The main celebrations take place in the Bucerias main town plaza on November 2nd, where incredible altars and elaborate costumes create a magical setting.

Fly Direct

A must-see experience in your lifetime - book now to experience Day of the Dead in Puerto Vallarta and Riviera Nayarit!

Book a direct flight to Puerto Vallarta International Airport. Available via TUI from London Gatwick and Manchester. Alternatively, fly with AeroMexico via Mexico City from London Heathrow.

ENDS

Notes to Editors

Media enquiries: hannah@enroutecommunications.com

Pressroom & Media Gallery: goo.gl/o4rjL7

About Puerto Vallarta

Puerto Vallarta, in the state of Jalisco, is well-known for the preservation of its Mexican traditions. The destination spans Banderas Bay and comprises Marina Vallarta, Hotel Zone, Downtown (El Centro) and the South Shore. Each region offers a distinctive charm.

For more information, go to visitpuertovallarta.com.

About Riviera Nayarit

Riviera Nayarit, in the state of Nayarit, lies just ten minutes north of Gustavo Díaz Ordaz International Airport (PVR). This region includes the resort town of Nuevo Vallarta, the historic village of San Blas, celebrity hideout Punta Mita, surfing haven Sayulita, scenic fishing villages, miles of serene beaches and the spectacular Banderas Bay.

For more information, visit rivieranayarit.com.